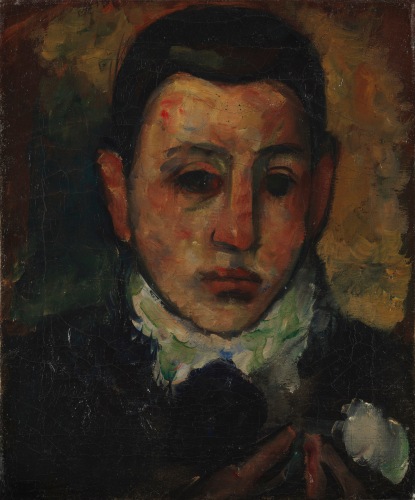 Arshile Gorky was born Vosdanig Adoian around 1904 (there are conflicting accounts of his birth date) in the village of Khorkom, near Lake Van, in an Armenian and Kurdish province on the eastern border of the Ottoman Empire (present-day Turkey). As a child Gorky experienced the genocide of his people, the Armenians, which drove him and thousands of others out of Van. These traumatic events culminated in the early death of his mother from starvation in December 1919, during a winter of severe deprivation for the Armenian refugees in Yerevan. Gorky and his younger sister Vartoosh emigrated to the United States in 1920, where he eventually changed his name to Arshile Gorky.
After living with relatives in New England, Gorky settled in New York City in 1924, and enrolled at the National Academy of Design and the Grand Central School of Art, where he quickly became an instructor. Despite having some formal art training, Gorky was essentially self-taught, obtaining most of his education through visits to museums and galleries, and reading art books and magazines. By doing so Gorky became familiar with avant-garde European art, embarking on a study of its masters and their origins, notably Paul Cezanne, Joan Miró, Pablo Picasso, Fayum portraiture, and Paolo Uccello. To friends and colleagues who criticized his approach as derivative, Gorky stressed the importance of technique, continuity and his disdain for the concept of originality.
In the 1930s Gorky began living and working from 36 Union Square, where he would remain for the rest of his life. He established close artistic friendships with John Graham, Stuart Davis, and Willem de Kooning among others, participating in the Works Progress Administration's Federal Art Project. By the mid-1930s, Gorky enjoyed the private patronage of Katherine S. Drier of the Société Anonyme and of Abby Aldrich Rockefeller, as well as formal representation at the Guild Art Gallery. He exhibited works at numerous galleries and museums, including the Museum of Modern Art and the Whitney Museum of American Art, where he participated in almost every contemporary painting and drawing annual from 1936 until his death. By 1937, the Whitney purchased its first Gorky, Painting. He would eventually see his works in the collections of the Museum of Modern Art, San Francisco Museum of Modern Art, Joseph H. Hirshhorn, and Peggy Guggenheim. On May 20, 1939, Gorky became a United States citizen.
In the early 1940s, Gorky's prominent position in the New York art scene brought him into contact with several members of the Surrealist group, who had been forced to flee Europe during the Second World War. His close friendship with the poet and leader of the group, André Breton, made a lasting impression on the artist and helped him obtain a contract with the Julien Levy Gallery. The Chilean-born painter Roberto Matta also contributed to the development of his mature style, encouraging Gorky to improvise and experiment with biomorphic forms, and introducing the artist to the Surrealist technique of automatic drawing. In the numerous innovative landscapes that Gorky produced in the early 1940s, his abstract vocabulary embraced natural and organic forms, which he conveyed with an explosive, erotic energy, arising from a time of personal and artistic fruition around his second marriage, a re-engagement with nature, and the birth of his two daughters.
Until his death in 1948, Gorky painted highly original abstractions that combined memories of his childhood with direct observations from nature and art. A sequence of catastrophic events beginning in the mid 1940s, however, would leave the artist in physical and emotional agony. A fire in his studio, a terminal diagnosis of rectal cancer and consequent operations, a debilitating automobile accident, and marital breakdown led Gorky to commit suicide on July 21, 1948. Despite his early death, the unique and impressive body of work that Gorky left behind made a profound impact on American Art, securing his reputation as the last of the great Surrealist painters and one of the first Abstract Expressionists.